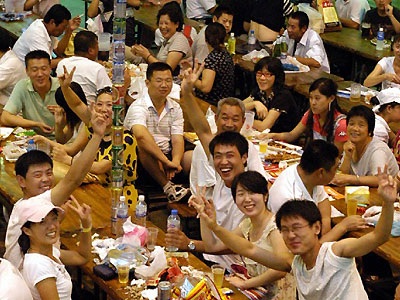 You can get a free glass of Jing-A's "Airpocalypse" beer, but only if the air quality is really, really crappy.
For once, though, he was hoping the index would show heavy pollution, since it meant cheaper beer. One of Beijing's micro-brew companies, Jing-A Brewing, was rolling out its latest brew, an IPA called the Airpocalypse, the price of which would be based on the amount of fine particulates in Beijing's air. If the AQI hit 500 or above, a measurement identified on the U.S. Embassy's Beijing Air Twitter feed as "beyond index," the beer would be free.
This news is intriguing to me–as it shows that the Chinese craft brewing scene is growing and that they possess the same penchant for tongue-in-cheek humor as their American counterparts.
Well, I suppose if the air outside is enough to give you spontaneous lungdarts or some such miserable death-funk, a discounted or free beer is the least they can do.