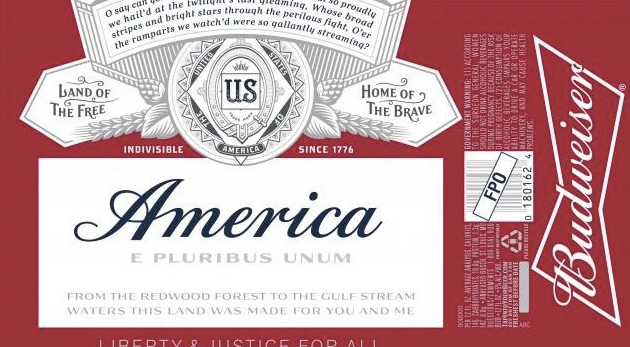 You've probably seen this stroke of marketing genius flying around social media.
American currency has long held claim to being the only thing found in bars that boasts the phrase "E Pluribus Unum."  This summer, Budweiser wants to change that by rebranding itself as "America" and peppering its packaging with that very phrase, alongside some others like "Liberty and Justice for All" and "Indivisible Since 1776."
Sure, why not? AB-InBev is a Belgian marketing and gimmick manufacturer that happens to own large scale brewing operations around the world. America! Whatever.
Obviously, a lot of people really enjoy the crap they make. Bud Light is still the most-consumed beer in the US by a mile. Second place isn't even close.
Still, if you were going to pick an actual American brewery that represents America, who would you choose?
I nominate Sierra Nevada.
There's a few reasons I suggest them.  They are nationwide, known crowd-pleasers, and priced affordably.  That little green-labeled pale ale is every bit as responsible for America's craft beer boom as a certain presidential-named beer brand out of Massachusetts.  And unlike the Vienna Lager (which is still a relatively small style outside of the Sam Adams flagship), American Pale Ale (and especially American IPA) is made by everyone everywhere all the time.  It's hard to overstate the role that Sierra Nevada played in prepping American palettes for the hop bombs of today. It was ubiquitous for a decade before the current environment where companies like Ballast Point can suddenly sell for a billion damn bones or clams or whatever.
Even the name of the company, "Sierra Nevada" evokes something quintessentially American: the wild and vast frontier of the West. The majesty and richness of the nature in the mountains.  Not to mention national parks.
But I suppose choice is the real backbone of American society, right? Slug some InBev products if you want. I'll stick with something actually American, though.