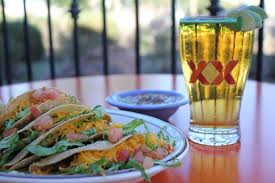 Don't be that guy shrugging and walking out with a 12-pack of Corona (unless you really dig that stuff…for reasons?)
There's plenty of interesting beer to be had.  Los Angeles media outlets have two short lists of alternatives here and here.  There is one overlap and it's delicious:
The Bruery — Or Xata

If you're looking for something other than a typical Mexican lager for your Cinco celebrations but still want a brew in the spirit of the holiday, try this curious mash-up from Orange County's the Bruery that re-creates horchata (the spiced rice milk treat ubiquitous in Southern California) in beer-form.
A seriously surprising crowd pleaser, that.  Goes great with dessert.
Another option is just to be true to the roots and drink a Vienna lager instead.
The Mexican lager's roots actually lie in Austria, and brewer Anton Dreher, who created the Vienna-style lager in 1836. The style was then brought to Mexico by Austrian brewers in the late 1800s. where it has continued to thrive.
I do enjoy a very cold Victoria with some texmex but if you have the option don't be afraid to branch out a little.
Drink and appropriate foreign cultures in moderation and stay thirsty, my friends.