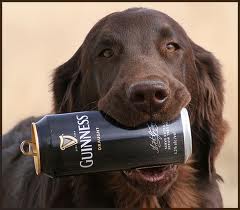 I don't even know how you get this dumb, but it may involve consumption of way too much Guinness while hatching a plan to make money.
He allegedly admitted to Saddle Brook police that he drove to Pennsylvania, broke into the tractor-trailer and hot wired the truck, records indicate. Llerena-Martinez then drove the truck on Interstate 78, Interstate 280 and then to the warehouse in Saddle Brook, where the beer was unloaded, police said.
What do you even do with that much stolen beer?  Do bars regularly look for bootleg booze these days?
With regard to the featured image for this post…well, that dog is clearly a Guinness thief. Just look at the guilty look in his adorable eyes.