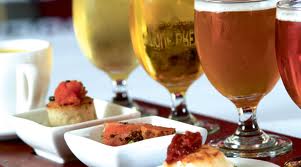 CraftBeer has a great article full of tips on hosting a beer dinner.  Everything from how to pair to how to serve is represented, including this that I find crucial:
6. There's not one right way to pair. There are no exact rules that must be followed. That's why I like to say what I use are practices more than principles.
The whole thing is a quick read and worth your time, and reading it should provide some good inspiration (as well as a perfectly reasonable excuse to buy a half-dozen growlers in preparation, though spouse approval may vary).