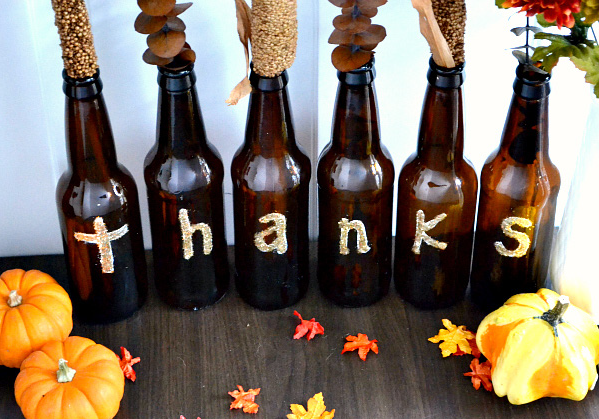 There is an exhaustive list of recommendation over at Serious Eats.
Everything from Belgian sours to nutty browns is on the table if you will (I crack me up), but the closest thing to a consensus seems to be the currently trendy saison.
Saison's yeasty and herbal notes resonate perfectly with the breadiness and herbal flavors of stuffing; its dryness contrasts well with the sweetness of roasted vegetables; and its effervescence helps to cut through the richness of things like buttery mashed potatoes and gravy.

…

It will handle any preparation of turkey and pair well with both the light and dark meat. The spicy, herbal nature of saison will pair beautifully with your traditional Thanksgiving herbs: sage, rosemary, thyme, and more. Saison is delicate enough to not overwhelm the potatoes but flavorful enough to not be diminished by the richness of the gravy and stuffing.

…

dry and spicy with a crisp ending to scrub your palate after each rich morsel of gravy, butter and turkey, leaving you refreshed and ready to stuff your face even more so the only hangover you have the next day is from the food."
A "versatile" pairing may seem like a cop-out, and you may want to eat your meal in stages with different pairs for each dish.  But for my money (and gastro-intestinal foritude), I think they're right.  Bring on some imperial pumpkin whatnot or a porter after all the eating has passed to finish up that late NFL game.