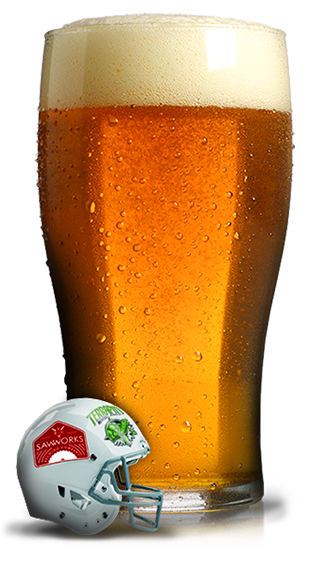 In celebration of this week's classic football match-up between the University of Georgia Bulldogs and the University of Tennessee Volunteers, these 2 "rival" brewers have set aside their differences for a collaborative Amber IPA.
Here's the word from the official beer website:
By now you've made the connection that Terrapin Beer Co. is located in Athens, GA, home to the University of Georgia. Likewise, Saw Works Brewing Co. is located in Knoxville, TN, home to the University of Tennessee and the hallowed Neyland Stadium. In spite of this SEC rivalry—and in spite of the larger brewhaha between the two states over the disputed border in Chattanooga—these two breweries will co-brew a batch of fine ale in celebration of comradery and football.
What's interesting here to me is that the universities themselves and the SEC (their mutual athletic conference) do not allow official endorsements of alcohol or anything even approaching such a connection by any party.  I guess they've tread lightly enough for everybody's legal department to remain satisfied…or maybe they just bribed them with free beer.
Keep your tailgates awesome today, folks. (And safe too, I guess).