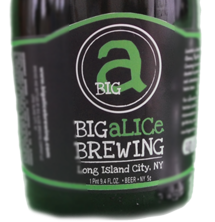 If you're not familiar with the concept of a CSA, here's a brief primer:  basically you pay up-front for a "share" in a local farm, and every week (or month, etc.) they drop off a box of whatever's seasonal and fresh from the farm at your house or some other pre-determined location.  It's a great (and usually inexpensive) way to get your fresh, local veggies on a regular basis and support local farmers.
So why not do that for a brewery? That's the idea at Big Alice Brewing in Queens, NY.
For $200, Big Alice Brewing is offering seasonal "beer shares," allowing members to gain access to a new batch of brews made every month at the Long Island City facility. "We actually modeled our sales after a CSA. About two-thirds of our production is sold through shares that people can pick up at the brewery once a month," said Big Alice co-founder Kyle Hurst.
While the brew is a bit more pricey than you would expect from a craft operation ($18 for a 750ml bottle), this does seem like a great idea for small breweries.  I know I would gladly pay up front for regular seasonal draught pints at my neighborhood brewery.
You can check out their website for more info: Big Alice Brewing.