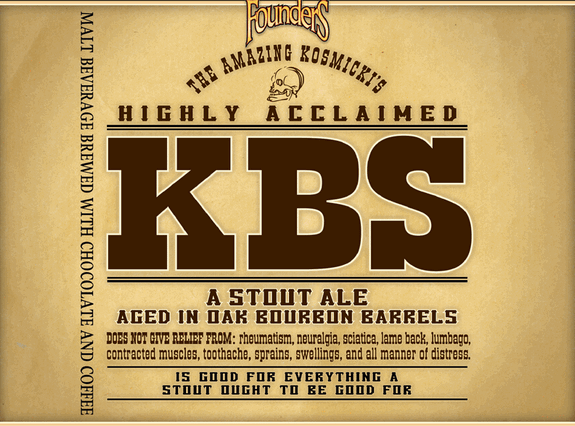 Ever wondered why you had to pay so much for a bottle, or have never even been able to find one?
MLive.com (Michigan's statewide news portal) has a great piece on the background of the hypebomb that is Founders Kentucky Breakfast Stout.
The brew, which pours midnight brown, is not so much a beer as a drinkable collector's item; something people hold onto for the "right occasion" or buy simply to gift or trade. Popping the cap off one feels unnecessarily serious, as if the actual consumption of a hot commodity like KBS is somehow irresponsible given the lengths necessary to procure a bottle.
I've never had the pleasure due to the insane rarity of the beer this far south, but everyone I've talked to says that this one truly lives up to the hype.  The beer its based on, Founders Breakfast Stout, is one of my go-to beers during the late months.  I was delighted to learn about its humble beginnings.
One Saturday afternoon, a taproom regular came in with a bag of chocolate covered espresso beans and gave some to Dave, who often worked through lunch. When he washed them down with a sip of porter, a light bulb went off.
Pretty cool, right?  The whole piece is worth reading, so I won't spoil any more of it here.
If anyone reading this wants to ship a bottle (or 20) of KBS to me, you just let me know!