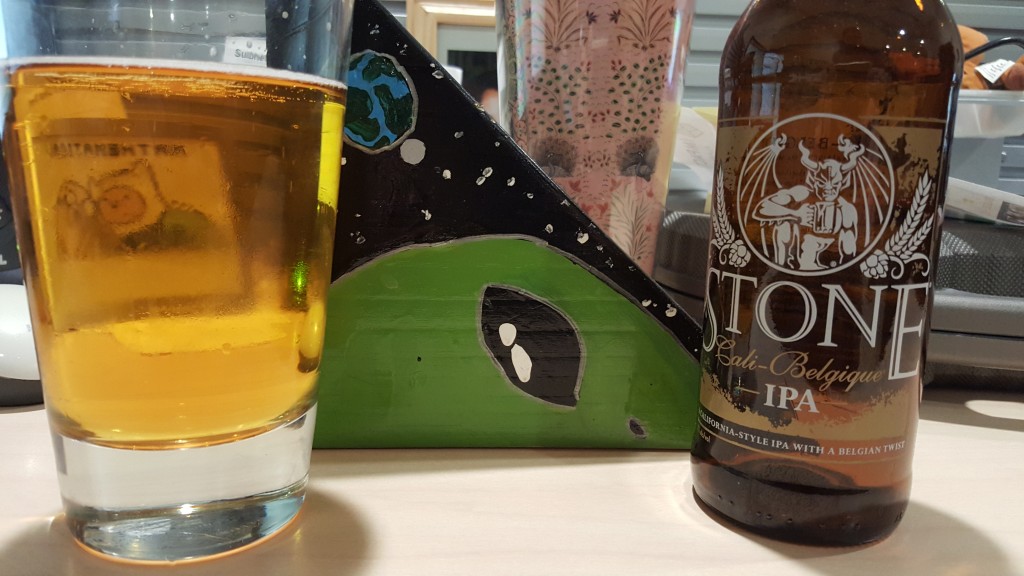 Another southern California nectar this week.  Stone Cali-Belgique Belgian IPA.  Pours a bronzy-orange with little to no head like a proper IPA. Good IPA pour. You get a treat.  The lacing is razor thin and almost perfectly symmetrical as I've come to expect from Stone's IPAs.  It smells of belgian yeast and citrus but neither is particularly forward or overpowering.  It tastes a bit like a standard west-coast IPA: your reference-standard lost at sea survival kit mixture of equal parts citrus and pine sap.
But it's also got just barely enough of the Belgian flavor to qualify for the nounjective (new word, trademark Brewtastic 2015) of "Belgian".  Not sure how I feel about that.  I think I want more of that clove-bubblegum business in a Belgian IPA.  I prefer Flying Dog Raging Bitch in the spectrum of this style.  It's got a slightly more robust malt and way more Belgian flavor, and the hop profile is a little less sweet-citrus.
That being said this is a fine beer.  There's not exactly a glut of Belgian IPAs on shelves so if you like Belgian tripels/saisons/etc. and also IPAs then go ahead and pick up this liquid, a'ight?