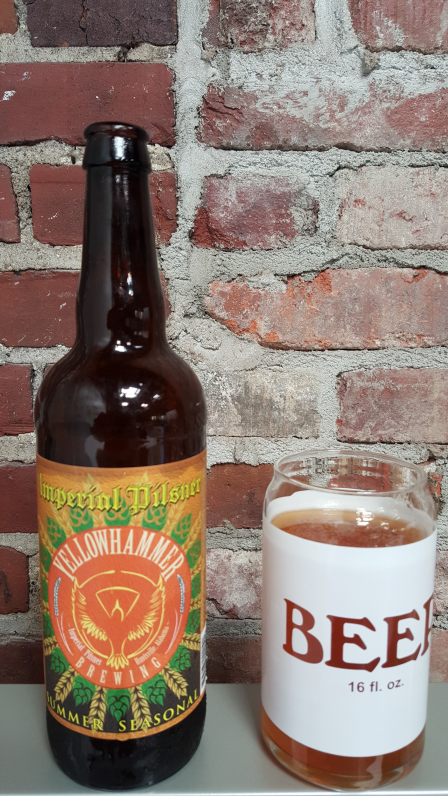 When you're glad about summer beer flavors but still want to end up bruising your hip from stumbling into a door frame, there's only one solution: Imperial Pilsner.
Today I've got my hands on this one from Yellowhammer Brewing.  These guys are one of the rising stars in Huntsville, Alabama's nascent but exciting craft beer industry.  I've been very pleased with everything I've had from Yellowhammer but the one that really turned it up for me was their Tobacco Road Imperial Amber.  Making big versions of really straightforward styles like amber and pilsner definitely appeals to my taste, though my liver is kind of on the fence.
This guy pours a little bit like a standard lager with minimal head and a beautiful golden hue.  The aroma is way hoppier than I expected, but that cereal-like pilsner malt comes through a bit too.  The mouthfeel is enormous compared to your typical lager.  It's about a quarter of the way on the scale between water and syrup and it's just about perfect for this style.  The taste is something absolutely wonderful. Hoo-boy.  Notes of Honey Smacks cereal, floral jasmine, and an almost-wine-like alcohol bite.  I'm half-way tempted to cellar this thing for a year to see it mellow out but it's still delightful fresh.  At 8.6% this is no lawnmower lager (unless you enjoy lawnmower-related accidents/injuries) but the overall profile still makes it perfect for hot summer nights.
Pair with live bluegrass and not checking your work email.
Several thumbs up.